Well No. NC-GWE-PV-2
SITE SUMMARY AND DATA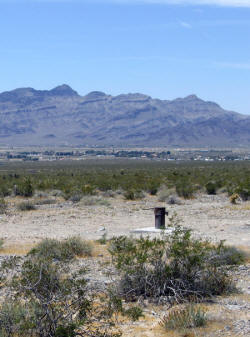 Status: Completed on 12/17/2010
Latitude/Longitude (NAD 83) - Approximate:
36° 16' 43.61" N 115° 58' 13.22" W
Legal Description: T19S R53E S24 SW 1/4
| | |
| --- | --- |
| Total Depth of Borehole (ft): | 462.5 |
| Total Depth of Well (ft): | 452.5 |
| Elevation of Ground Surface (ft amsl): | 2964.0 |
| Elevation of Water (ft amsl): | 2606.5 |
| Depth to Water (ft bgl): | 357.5 |
| Screened Interval (ft bgl): | 362-442 |
| Sandpack Depth (ft bgs): | 356-463 |
| Estimated Airlifted Water Production (gpm): | 2-3 |
| (depth to water values based on post-drilling measurements taken in March 2011) | |
| | |
| --- | --- |
| Contact Intervals (ft bgl) | Stratigraphic Unit |
| 0-20 | Silty Gravel with Sand |
| 20-462.5 | Well Graded Gravel with Sand |

Access: From the intersection of Nevada Highway 160 and Simkins Road, head east on Simkins Road about 1.7 miles. NC-GWE-PV-2 will be on the left side of the road. Click on the thumbnail image for a larger view.

Purpose - Groundwater Conditions in Pahrump Valley:
NC-GWE-PV-2 is one of five boreholes and wells that were drilled to infill data gaps in the Water Level Monitoring Program (WLMP), especially on the Pahrump Fan.
Data:
RID
Description
Data
Metadata
Date

Well Completion Diagrams

7903
NC-GWE-PV-2 Well Completion Diagram
rid7903.pdf
meta7903.pdf
4/15/11

Geophysical Data

7846
NC-GWE-PV-2 Completion Geophysical Logs, including: natural gamma, 8-, 16-, 32-, and 64-inch normal and lateral resistivity, fluid temperature, fluid resistivity, and density logs. Data collected on 12/20/2010; Data are in log ASCII format (.las).
rid7846.zip
meta7846.pdf
4/14/11
7853
NC-GWE-PV-2 Open Hole Geophysical Logs, including: natural gamma, 8-, 16-, 32-, and 64-inch normal and lateral resistivity, fluid temperature, fluid resistivity, and caliper logs. Data collected on 12/17/2010; Data are in log ASCII format (.las).
rid7853.zip
meta7853.pdf
4/13/11

Ground Water Chemistry

7966
NC-GWE-PV-1, PV-2, PV-3, 2P, 8PA, Felderhoff-25-1PA, GF-3PA, GF-4, GF-4PA, OV-1, OV-2, NPS well AM-0501 (GF-1), and Inyo BLM #1 Ground water chemistry results including major ions, nutrients and metals from ACZ Laboratories, Inc.; SIRA of nitrogen in nitrate from Isotech Laboratory; gross alpha and beta, radium, and uranium from Radiation Safety Engineering, Inc.; and SIRA of carbon in TDIC, Radiocarbon (C-14) from Beta Analytic for the collection period from 3/21/2011 - 6/23/2011.
rid7966.zip
meta7966.pdf
3/15/12
7974
NC-GWE-PV-1, PV-2, PV-3, 2P, 8PA, Felderhoff-25-1PA, GF-3PA, GF-4, GF-4PA, OV-2, NPS well AM-0501 (GF-1), and Inyo BLM #1 Ground water chemistry results including pH, EC, SiO2, HCO3, CO3, Cl, SO4, NO3-N, Na, K, Ca, Mg, DOC from Desert Research Institute (DRI) Laboratory for the collection period from 3/21/2011 - 6/23/2011.
rid7974.zip
meta7974.pdf
3/29/12

GPS Location Data

7838.01
Post-processed Global Positioning System (GPS) positions for wells NC-GWE-PV-1, PV-2, and PV-3

Superseded by RID 7838.02

Superseded by RID 7838.02
03/12/12
7838.02
Post-processed Global Positioning System (GPS) positions for wells NC-GWE-PV-1 and NC-GWE-PV-2.
rid7838_02.zip
meta7838_02.pdf
04/10/12
Abbreviations:
NAD 83 - North American Datum of 1983
AMSL - Above Mean Sea Level
BGL - Below Ground Level
BGS - Below Ground Surface
GPM - Gallons Per Minute
GWE - Groundwater Evaluation