The Yucca Mountain Exhibits
is free to visitors and has been set-up to be self-guided.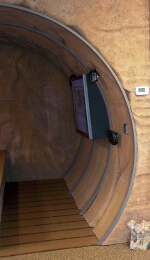 The Information Center has a tunnel-like interior design with exhibits and interactive multi-media kiosks to help answer technical questions like:
What is Nuclear Waste?
How was Yucca Mountain Selected?
What is Radiation?
Is Transportation Safe?
Will the Repository be Safe?

We've prepared some responses to questions you may have related to the Yucca Mountain Information Center or the uncertain future of the Yucca Mountain Repository Project.
Please call the Nye County Nuclear Waste Repository Project Office at (775) 727-7727 if you have questions or just want to discuss these issues.
We will do all we can to help you to be better informed on Yucca Mountain, how it plays in national energy policy, how termination or continuation of the project may affect lives in Nye County, the State of Nevada and the Nation.