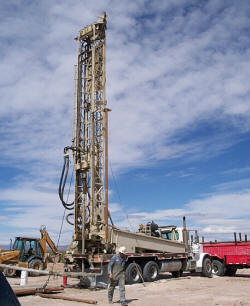 GWE DRILLING PROGRAM BACKGROUND

Water level data from the NWRPO Water Level Measurement Program (WLMP) have been used to identify spatial trends (rises and declines) throughout southern Nye County and portions of Clark County, Nevada and Inyo County, California.

Several data gaps were identified during this analysis, particularly in three areas:
On the alluvial fan area in Pahrump.

Down gradient from previous nuclear tests on the Nevada Nuclear Security Site.

In the northern Amargosa Desert.
GENERAL OBJECTIVES
Infill data gaps in the water level measurement program

Better understand geologic controls on ground-water flow

Determine aquifer characteristics

Provide data to assist Nye County Water District with basic water resource characterization in southern Nye County
SPECIFIC OBJECTIVES
There are three (3) primary tasks with the following specific objectives:
Groundwater Conditions in Pahrump Valley. Five (5) boreholes and wells to infill data gaps in the WLMP, especially on the Pahrump Fan.

Water Resource Conditions in Amargosa Desert. Seven (7) boreholes and monitoring wells to: 1) collect baseline flow and chemical data south and west of the Nevada Nuclear Security Site, and 2) determine head relationships near the Gravity Fault to help determine the role of the Gravity Fault in restricting or facilitating groundwater flow in the Amargosa Valley.

Surface Water Conditions in Southern Nye County. Two (2) boreholes and monitoring wells in Oasis Valley to collect baseline flow and chemical data in areas (far) down gradient from previous nuclear tests.
DRILLING PROGRAM
Fourteen boreholes were drilled by Hydro Resources, Inc. for a total of 4,600 feet (locations are shown on the GWE Well map). The drilling was completed in two phases between May 2010 and January 2011.
Drilling Parameters:
All boreholes are located on existing Early Warning Drilling Program (EWDP) sites or on privately-owned lands

Air foam, conventional circulation methods were used

10-inch surface casing set to 20 feet, 8-inch borehole drilled to total depth

Boreholes were drilled to approximately 100 feet below the water table

- The shallowest borehole was OV-2 (119.8 feet); the deepest was PV-1 (610 feet)
Monitor Well Completion Parameters:
Wells completed with 4-inch Schedule 80 PVC

Sandpack and grout were emplaced using tremmie methods

Surface completion with protective steel casing, concrete pad, and locking well cap
DATA COLLECTION
Borehole Data Collection Parameters:
All data are collected under the NWRPO Quality Assurance Program

Cuttings samples were collected every 5 feet

Sediments were logged using Unified Soil Classification System descriptions

Consolidated rock was logged using quantitative descriptions

Borehole geophysical logs were collected

-Open-hole (gamma, resistivity, temperature, and caliper)

-Completion (gamma, temperature, fluid resistivity, and density)
Pump Testing Parameters:
4-inch casing limited pump tests to 3-inch pumps resulting in low flow rates and very little aquifer stress.

Step testing

Constant discharge testing
DATA
As Water Resource Characterization and Monitoring data packages and publications are completed, they will be made available for download. Each completed well will include well completion diagrams, summary geologic information, pump test data, water chemistry, and water level data.